How to Create a PostgreSQL Database on cPanel Hosting - There are various types of databases that are quite well known, one of which is PostgreSQL. There are many advantages of this database type compared to other databases. Include open source, data integrity, kemudahan ditingkat user, and have performa tinggiin the process data fairly large. At KincaiHosting, you can easily create PostgreSQL databases in cPanel.
How to Create a PostgreSQL Database in cPanel
The steps are,
1. Enter your cpanel via https://domainname.com/cpanel

then log in according to the email sent from KincaiHosting regarding Informasi Account Hosting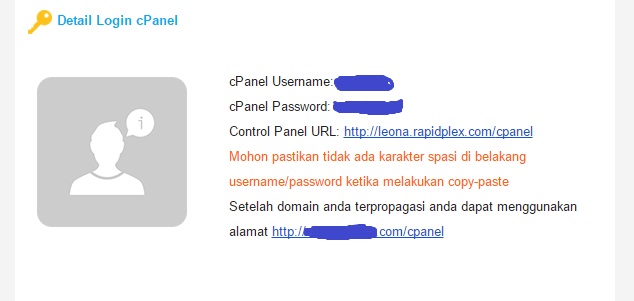 2. In the search form type " database" then select PostgreSQL Database Wizard. Actually you can use PostgreSQL Databases or PostgreSQL Database Wizard to create a database in cPanel. However, to make it easier, you can use PostgreSQL Database Wizard.

3. After that you will be directed to the PostgreSQL Database Wizard page. In the PostgreSQL Database Wizard you will be guided step by step in creating a PostgreSQL database in cPanel. Tuliskan nama database yang anda ingin dibuat. Then klik Create Database.

4. Then you will be directed to step 2 Yaitu membuat user database.. Fill in according to your wishes. From startusername dan passwordwhich will be used in the database. When finished, klik Create User

5. In step 1, you have successfully created a database. In step 2, you have successfully created the user database. And in this third step, you will menambahkan user yang telah buat ke database tersebut. Please klik Submitif the user data and database are correct (according to what you wrote in the previous step).

6 Setelah step by step terlewati maka user dan database PostgreSQL telah selesai dibuat.. You can manage PostgreSQL databases via PostgreSQL Wizardor phpPgAdmin. To find out what phpPgAdmin is and how to import PostgreSQL in cPanel, you can read the Guide on How to Import PostgreSQL in cPanel .

Knowing the User and Database
For those of you who want to add a USER for the DATABASE that has been created, please open cPanel, then select the PostgreSQL Databases Menu. Scroll down until you get the Add User To Database column then adjust the User and Database. After that click Submit.

Conclusion
When creating a website, a database is an important aspect. There are various types of databases, one of which is PostgreSQL. Creating a PostgreSQL database in cPanel is very easy. It is enough to follow the step by step that is guided, the database has been formed. Want to try a Virtual Server with the latest technology with Native SSD, Instant Spin and Enterprise Grade Server? Place an order for KincaiHosting Cheap Indonesia VPS and get more satisfaction with server access control. Greetings from the KincaiHosting Team