Access rights are quite important. Because the access rights determine the user's capacity in managing files on the hosting. Who can only view files? Who can change the script on the website? Who can run the script. Well, this guide will explain how to change file permissions on hosting. Don't ever give 777 access right!
What is a File Permission?
File permissions are permissions owned by the system to determine who can control the work of the system itself. Quoted from Wikipedia, this file permission functions to set the user to view files, modify, redirect and execute system files. Alright, now try to liken it to a house. You have to manage who and what activities other people can do inside, right? Well, it functions the same as these file permissions. Everyone must have access rights in the form of a code in order to enter the house and carry out activities inside. Can you only enter the house? Can it change the interior of the house? etc. For beginners it is usually confusing to change permissions. But calm down, you can follow how to change the file permissions on hosting step by step according to this guide.

Overview of File Permissions / Access Rights
You can find file permissions through the file manager or via SSH access. On Unix-based servers, file permissions are usually numbers. For example, 777, 755, 711 and others. What do these numbers mean?
Previously, you must know the type of user along with the mode / category of access rights.
User Type
There are 3 types of users who have access rights, namely,
User : User is the owner of the hosting / server account
Group : Group is a group of users who are given access to access files on hosting
World : World is all public aliases.
Access Rights Category
Then there are 3 modes / categories of access rights that the system can perform. Namely:
Read : Access rights to read the file. Users can only read files. Users cannot modify and run a file.
Write : Access rights to modify files, add files and delete files / folders. Users can only modify files, add configuration files but cannot run them.
Execute : The permissions to run / execute files. User can run and execute file / script.
What is the relationship between user type and access mode? Well, we will give you an example.
For example, there is a file permission code 755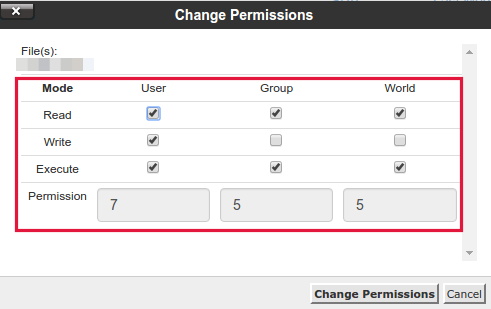 Meaning:
Users can read files (read), modify files (write) and run files (execute).
Meanwhile Group and World can only read the file (read) and run the file (execute).
Using the 777 is prohibited!
Yes! 777 file permissions are strictly prohibited! A folder or file that has 777 permissions means that everyone can read the file (read), modify the file (write) and run the file (execute). This is very susceptible to malware / virus insertion by hackers.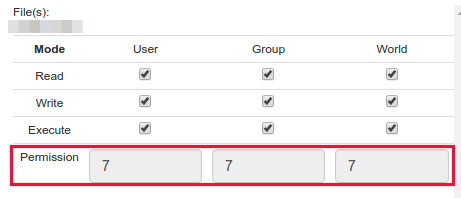 How to Change File Permissions on Hosting
As for how to change file permissions on Hosting is very easy. Please follow the step by step below.
1. Login cPanel Hosting
The first step you have to do is login to cPanel. CPanel login can be via https://domainname.com/cpanel, according to the email sent from KincaiHosting regarding Hosting Account Information. For those of you who don't know how to log in to cPanel, please read the Easy Way to Login cPanel Hosting .
2. Choose File Manager
After successful login, please type "file manager" in the search field. Click the Menu File Manager.
3. Selecting the Folder Access Rights to Change
Now it's time to select the folder / file to change the permissions for. On the right side, precisely in the "Permissions" column, there are numbers in the form of folder / file permissions. To change file permissions, please click on that number then click Permissions.

Change according to the desired access rights. After that click Change Permissions. By default public_html usually has 0755 permissions.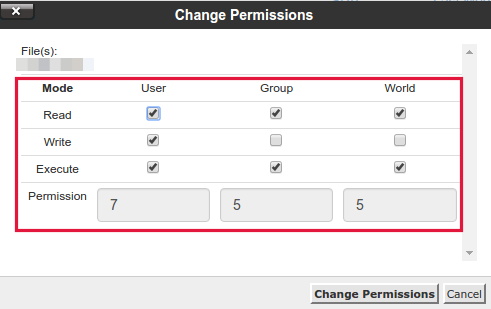 4. File Permission Changed Successfully!
Voila! File permissions changed successfully. Always remember! Make sure you change the file permissions according to the directions from the KincaiHosting Support Team! If you change the file permissions carelessly, the consequences can be fatal. For example, scripts cannot be run, websites are easily hacked or even error websites.
Conclusion
How to change file permissions on Hosting is very easy. You can change file permissions on Hosting via the File Manager menu in cPanel or directly via SSH. However, We recommend changing it via File Manager only because it's easier! Are you confused about what cPanel Hosting can do? Try reading What is cPanel . Need a hosting upgrade so that the website is not slow? KincaiHosting has Cheap Hosting with the best quality. Let's order hosting now! Greetings, KincaiHosting!