FTP stands for File Transfer Protocol. Quoted from Wikipedia , FTP is an internet protocol that runs within the application layer which is the standard for sending computer files between networks. With FTP you can easily upload website files. Technically, File Transfer Protocol or FTP uses port 21 as a gateway so that communication can be established between the client and server. Well, sometimes you want to give FTP access to other people but with a different account. For this reason, this guide will explain how to create an FTP account at cPanel Hosting. So, if there are other people who want to upload website files, they have their respective accounts. How to? Please follow the following guidelines.
How to Create an FTP Account at cPanel Hosting
As for how to create an FTP account at cPanel Hosting, namely,
1. Login cPanel Hosting
Please login cPanel Hosting via https: // domainname / cpanel, according to the email sent from KincaiHosting regarding Hosting Account Information. For those of you who don't know how to log in to cPanel, please read on How to Login cPanel Hosting .
After successful login, please type " ftp" in the search field. To create an FTP account on cPanel, please select the menu FTP Accounts. This menu functions for managing FTP and SFTP accounts.
3. Creating an FTP Account
Wait a moment until the FTP Accounts page appears. On this page you can manage FTP and SFTP accounts. To create an FTP account on cPanel Hosting, take a look at the section Add FTP Account. In the fields Log In, please fill in username FTPwhat you want. Then select the domain that is used. Don't forget to fill in the password and rewrite the password. Make sure you have used a combination of capital letters, lowercase letters and numbers. Want a more secure password? You can read How to Make a Secure Password . In the directory leave the default only. For quotas, select Unlimited. If so, don't forget to click Create FTP Account.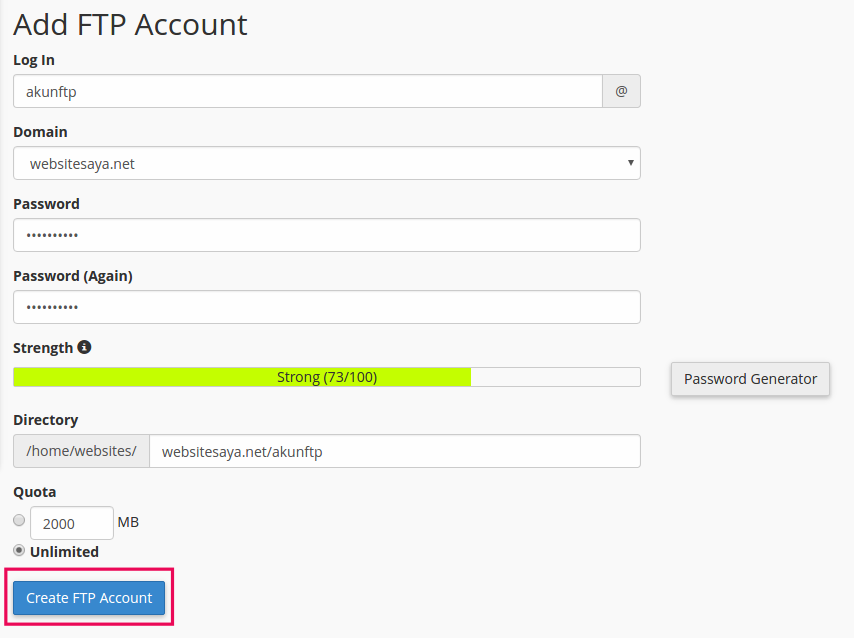 If successful, it will say " Account created". That means you have successfully created an FTP account!
FTP Account Configuration
The FTP account has been created successfully. Wait a minute, until you can find the account in the FTP Accounts section. If you want to use an FTP client like FileZilla, please click Configure FTP Client. Then it will appear FTP Username, FTP Serveras well as the portones you can use. Well, FTP Username, FTP Server and port are useful when you want to upload a website to hosting using FileZilla.

Host : Please fill in name FTP Server/ server name / domain name
Username : Please fill in FTP Username
Password : Please fill in with the FTP account password that you created earlier
Port : Please fill in with port 21


For more details, please read How to Upload Website Files to Hosting Using FileZilla .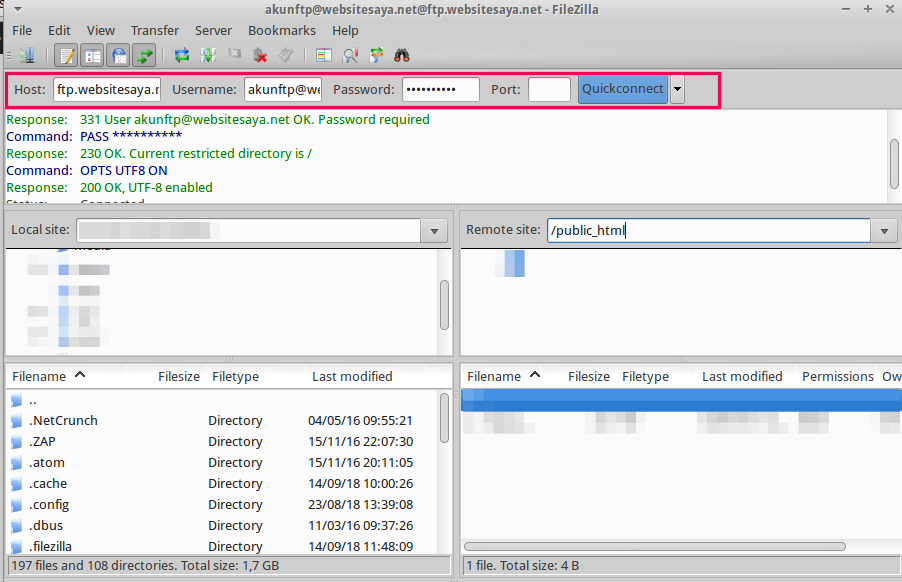 Also Read: Difference between FTP and SFTP
Conclusion
In order to give access to other people to upload website files, make sure you have created a new user account. Creating an FTP account on cPanel is very easy. You only need to prepare the username and password. This FTP account can be used when you want to upload website files using an FTP client such as FileZilla , CoreFTP or Cyberduck . Want to know the easiest way of web hosting? Please follow the Web Hosting Method for Beginners . Want to know where your website files are? Try reading How to See the Location of Website Folders . Let's do a hosting upgrade now so that your website performance gets faster! Greetings, KincaiHosting!
Also Read: Best Quality Cheap Hosting